These Ornish diet recipes are very simple to make for beginners and they can come to your dinner table quickly.
5 Free Ornish Diet Recipes
It is one of the quite healthy diets based on vegetables applied these days. The basic mindset of the diet is to eat low-fat and plant-based foods and shed excess weight while boosting your health with a vegetarian diet. But the main target is heart patients.
So what exactly does the Ornish diet include and what foods are banned? Here we will review before moving on to the recipes.
Ornish Diet Food Ranking
Free:
The diet frees up many fruits.
These include kiwi, pomegranate, apple, banana, apricot, orange, grapefruit, strawberry, melon, and pear.
Legumes, beans, red lentils, green lentils, and chickpeas.
Almost all vegetables and legumes are free.
Broccoli, cauliflower, cabbage, peppers, garlic, onions, spinach, and zucchini are at the top of the list.
Limited Amount:
Nuts and seeds can be consumed in limited quantities.
Limited quantities mean less than 2 small portions per day;
Examples of these are:
Walnut, cashew, almond, pumpkin seeds, and chia seeds.
Low-fat packaged foods are also among the foods that can be consumed in a limited way:
Whole grain cereals, whole grain crackers, frozen veggie burgers.
One cup of unsweetened coffee per day is allowed on the diet.
In addition, 2 servings per day or fewer non-fat yogurt, skim milk, low-fat cheese are free.
As for the oils, they are also free, but not too much, and non of all kinds of oils.
Olive oil, avocado, coconut oil, vegetable oil, canola oil, and olives can be consumed in moderation.
The following list of foods that should be consumed in limited quantities includes:
Pasta, biscuits, bread, pancakes, rice, honey, brown sugar, white sugar, crackers.
You can also consume up to 1 serving of wine or beer per day.
Regarding processed foods, the list allows foods such as high-fat ready-meals, bakery products, fast food, chips, and bagels, provided that they consume less.
Not Allowed:
No type of meat is consumed in the diet. Fish, white meat, red meat, any meat with or without fat is prohibited.
However, egg yolk is also among the prohibited products.
Ornish Diet Recipes
1. Spinach Soup with Legumes (4 Servings)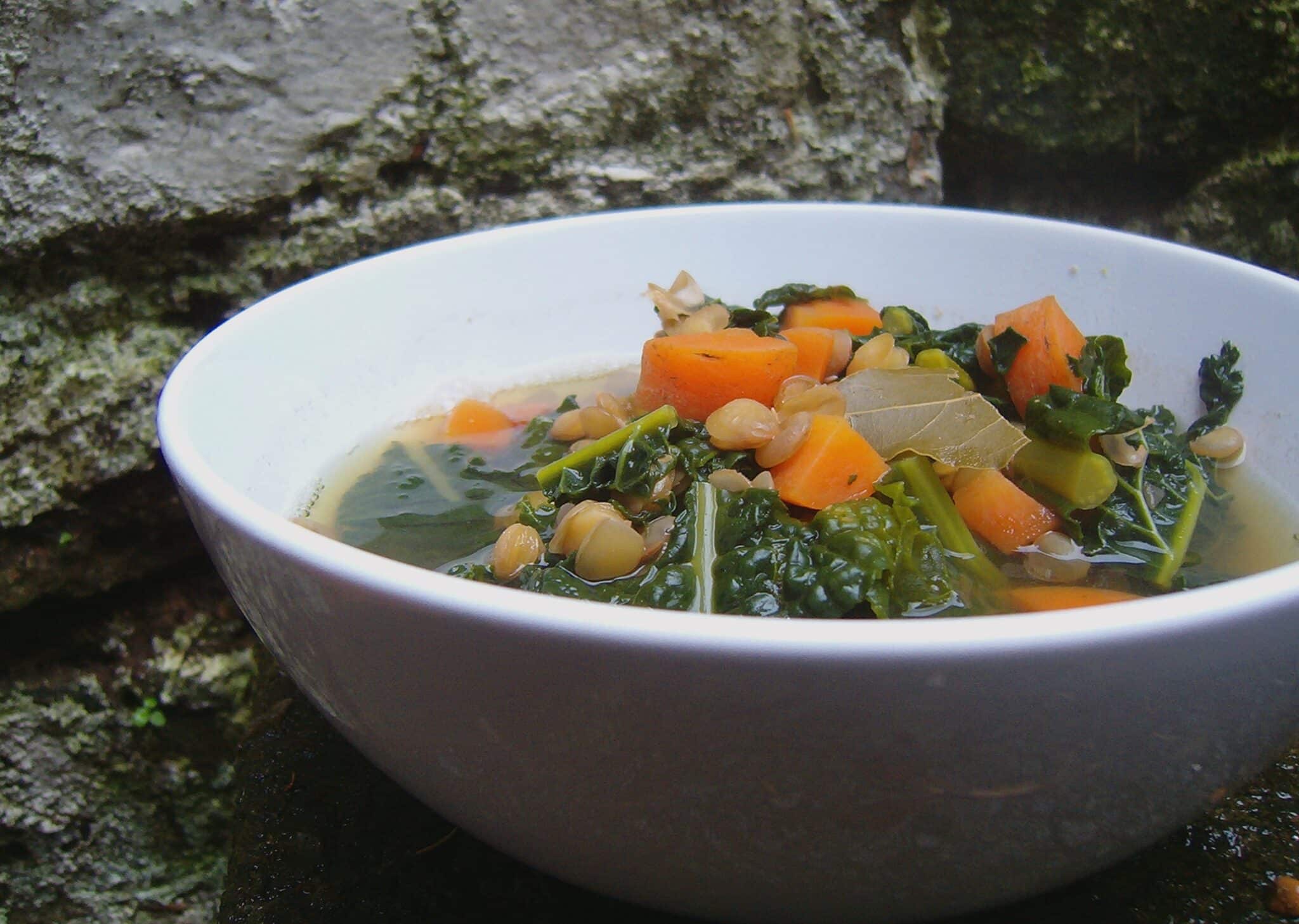 Per Serving
Calories: 174
Net Carb: 14g
Total Fat: 9g
Protein: 9g
Ingredients
Spinach (9.5 cups – 300g)
Boiled chickpeas (1 cup)
Boiled kidney beans (1 cup)
Carrot (1, large size)
Onion (1, medium size)
Olive oil (3 tbsp)
Water (3 cups)
Lemon juice (1/3 lemon)
Tomato paste (1 tsp)
Salt and pepper to taste
Recipe
Step 1.
Chop the onions into thin, tiny cubes.
Peel the carrot and cut it into cubes.
Take the onions and carrots in a medium saucepan and fry them.
Add the tomato paste at this stage.
Then add the water.
Boil in this way until the carrots and onions are tender.
Step 2.
Finely chop the spinach.
Add into the boiling mixture and mix well.
When the spinach is cooked, add the chickpeas and kidney beans, lemon juice, salt, and spices and boil a few more times.
Remove from the stove and serve hot.
Tip: You can boil the chickpeas and kidney beans in water the night before, or you can use canned ones.
Tip: If you wish, you can add more tomato paste for the color of the soup.
2. Baked Zucchini Fritters (12 Fritters)
Per Fritter
Calories: 115
Net Carb: 5g
Total Fat: 7g
Protein: 7g
Ingredients
Zucchini (4, medium)
Scallion (4 branches)
Dill (1/2 bunch)
Parsley (1/2 sprig)
Eggs (2 pieces)
Greek yogurt (Skimmed, 2 tbsp)
Whole wheat flour (1/2 cup)
Curd cheese (0.8 cups – 200g)
Baking powder (1 tbsp)
Olive oil (Little less than half a cup)
Salt, pepper, paprika to taste
Sesame seeds and black cumin
Recipe
Recommendation: Bake the fritters in a tray or muffin tin and serve after slicing.
Step 1.
Peel the zucchini, grate and squeeze the juice well and place on a paper towel.
Wash and dry the parsley, dill, and scallions and chop finely.
Mash the cheese with a fork.
Take all the ingredients (except the flour) into a deep bowl and mix well.
Then gradually add the flour.
Make sure your mortar is not too runny.
Step 2.
Lay parchment paper on a baking tray and spread your mortar on it.
Sprinkle black cumin and sesame seeds on your mortar.
Bake in a preheated 180 C degree oven for 40-45 minutes in a controlled manner.
Tip: If you want your fritters to look like a pastry, don't skip the step of sprinkling sesame and black cumin seeds.
3. General Tso's Cauliflower (4 Servings)
Per Serving
Calories: 214
Net Carb: 30g
Total Fat: 6g
Protein: 9g
Ingredients
Cauliflower (1, medium head)
Water (1/2 cup)
Whole wheat flour (1/2 cup)
Corn starch / Kuzu-Kudzu starch (1/3 cup)
Baking soda (1/2 tsp)
Sesame oil (1 tsp)
Egg (2 nos)
Soy Sauce (1 tbsp)
Dressing:
Sesame oil (2 tsp)
Garlic (3 cloves)
Scallion (6 branches)
Ginger (1 tbsp)
Soy sauce (4 tbsp)
Rice vinegar (2 tbsp)
Salt
Sugar (1 tbsp)
Corn starch / Kuzu-Kudzu starch (1 tbsp)
Vegetable broth (1/2 cup)
Sesame (1 tbsp)
Paprika – Optional
Watch General Tso's Cauliflower Recipe Video

Recipe
Step 1.
Mix the flour, starch, baking powder, and salt in a bowl.
In another bowl, mix the egg and soy sauce.
Slowly add the egg mixture to the flour mixture.
While adding the egg mixture, do not forget to whisk the flour mixture without stopping.
For frying, take a small amount of oil in a frying pan and heat it well.
Cut cauliflower florets into small pieces
Cover with mortar and fry in hot oil until golden brown.
Step 2.
In a medium saucepan, heat the sesame oil over medium heat.
Add the chopped scallions, crushed garlic, crushed ginger, and paprika as desired.
Saute for about 2 minutes until the textures are soft.
Add the vegetable broth, soy sauce, and vinegar and wait for it to boil.
When it boils, lower the heat and let it boil for another 5 minutes.
Step 3.
In a small bowl, mix the sugar and starch and add it slowly and stirring to the hot sauce.
Keep it boil.
Simmer for 9 minutes, until sauce thickens.
Fry the cauliflower in oil, set it aside and drain the excess oil, put the cauliflower into the sauce, and spread it all over.
Sprinkle sesame seeds on the cauliflowers, which are well covered with the sauce, and serve.
Tip:
If your cookware is small or your cauliflowers are large, do not cook them all at once.
When you put too many pieces into hot oil, its temperature drops suddenly and your food absorbs the oil.
Tip:
You can serve it with boiled basmati rice.
4. Low Carb Coleslaw (4 Servings)
Per Serving
Calories: 203
Net Carb: 10g
Total Fat: 16g
Protein: 3g
Ingredients
Cabbage (1/2, small)
Carrots (2, medium)
Onion (1/4, small)
Dressing:
Vegan mayo (6 tbsp)
Granulated sugar (1/2 tbsp)
Lemon juice (from 1 lemon)
Grape vinegar (1 tbsp)
Salt to taste
Recipe
Step 1.
Put all dressing ingredients in a small bowl and mix well with a fork.
Step 2.
After peeling the carrots, grate them.
Grate the onion and put it in a mixing bowl along with the carrots.
Remove the tough part in the middle of the cabbage and finely chop it.
Add the chopped cabbage to the mixing bowl and pour the dressing you prepared for it.
Gently mix all ingredients.
Recommendation: Add grated green apple pieces to the salad, you won't believe the taste.
Tip: If you don't like the taste of onions, use 1 teaspoon of garlic or onion powder.
Tip: You can use strained Greek yogurt instead of mayonnaise.
5. Ornish C

abbage with Mushrooms (4 Servings)
Per Serving
Calories: 140
Net Carb: 5g
Total Fat: 12g
Protein: 3g
Ingredients
Cabbage (1/3, medium)
Carrot (1, large size)
Onion (1, small size)
Mushrooms (2.3 cups)
Garlic (2 cloves)
Olive oil (4 tbsp)
Tomato paste (1 tbsp)
Cumin, pepper, salt
Recipe
Step 1.
Finely chop the cabbage.
Peel and grate the carrots.
Peel and finely chop the onion.
Clean the mushrooms by wiping them with a damp cloth, remove the stems and chop them to medium thickness.
Take olive oil in a medium saucepan.
Put the onion on it and cook until it changes color.
Add the garlic and sauté.
Add the grated carrots and cook until tender.
Add the tomato paste at this stage.
Step 2.
Add the finely chopped cabbage.
Roast them well and add 1 cup of water to them and let them cook.
Sauté the mushrooms in a separate pan and add to the cooked cabbage.
Add salt and pepper and mix well.
Step 3.
Remove from the heat when the meal has absorbed the water and the cabbages have tendered.
Let it rest for a while and serve lukewarm.
Tip: The reason why we cook the mushrooms in a separate place is that they don't release their bitter juice when cooking with other vegetables and their color doesn't turn too dark.
Recommendation: Before serving, you can garnish the dish with chopped parsley.
Reference:
https://www.webmd.com/diet/a-z/ornish-diet/
See Also:
1500 Calorie Ornish Diet Meal Plan
Mediterranean Diet Lunch Ideas
Damla Sengul, a seasoned Food Editor at Dietsmealplan.com, boasts a 5-year worth of expertise as a digital editor, with a specific focus on authentic recipe content. Her expertise extends to various crucial aspects of the cookery world, including in-depth research on renowned chefs worldwide and innovative recipe development. Additionally, Damla is an enthusiastic baker who dedicates part of her time crafting delightful celebration cakes for her friends.