Nothing says "summertime" quite like a bowl of ice cream or a cone, whichever you prefer. Forget about expensive ice cream machines and instead use a glass container to make your own Keto ice cream at home.
Check out our step-by-step guide!
Keto Blueberry Ice Cream Recipe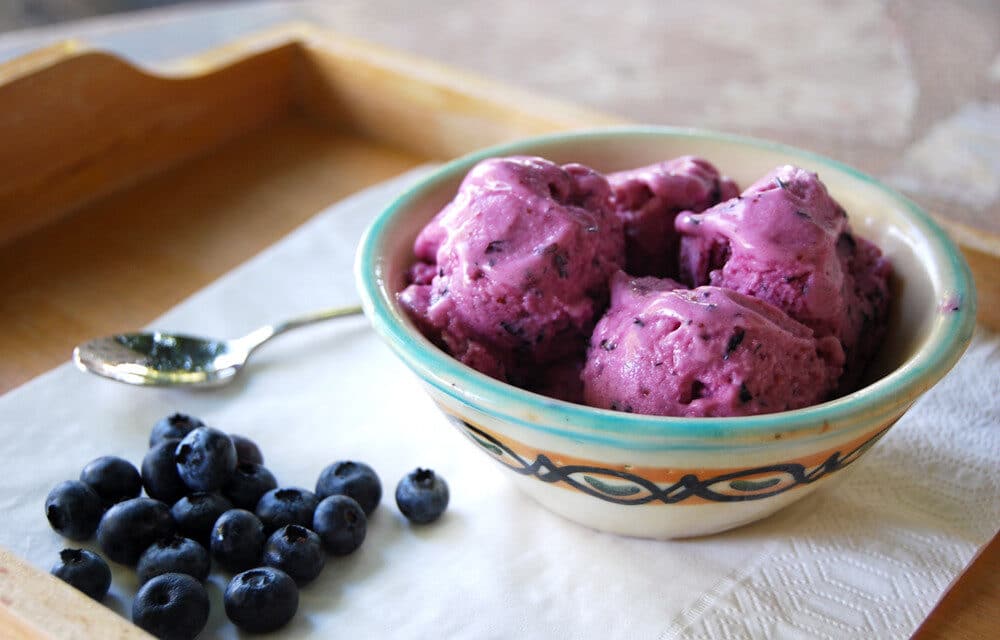 Sure, it's easy to just pop by the store and get your favorite ice cream but have you ever given it a thought to make it yourself the way you want it? With your health in mind?
This Keto ice cream only contains 5 ingredients and it is extremely easy and quick to make.
This recipe will not only save you a few bucks but most importantly you will know what you are putting in your body while maintaining a healthy lifestyle.
Frankly, homemade ice cream has never tasted better. We can't get enough of it, and we know you will feel the same!
For this at-home version, you will notice the difference in texture and flavor. This ice cream is so creamy and its texture is much like gelato.
It will seriously transport you back to your best school days or the dreamiest vacation spot. You can even add many nutritious toppings such as pecans or dried fruit. You can't go wrong here!
Also, if blueberries aren't your thing you may switch the mashed blueberry for strawberries or banana extract and coloring with all the other instructions staying the same. It's seriously delicious!
Well, let's get to it. The following recipe is sugar and gluten-free, grain-free, and low in carbohydrates.
ith only in 2g net carbs, this ice cream will be just the right addition to your day or night while keeping your health as the main priority.
Making this recipe is incredibly simple because of the ingredients you may already have at home.
What's even better is the many variations you can create using the base of heavy cream and monk fruit substitute sugar.
You can switch fruit flavors or use preferred products according to health restrictions.
They are perfect to satisfy your sweet tooth, kid-friendly, and won't break the bank. The only problem with this recipe is you will run out of it too quickly!
See Also
I am Andrea! As a chef, I take pride in researching and producing diet-friendly recipe videos on daily basis. My goal is to deliver you the healthier versions of meals, desserts, and smoothies so that you can enjoy the taste of your favorite dishes and be healthy.