[wp-review]
Keto Chocolate Chip Cookies
The Standard Keto diet may sound bland at times. What if you can include Keto Chocolate chip cookies on your meal platter? Sounds tempting, right?
Besides being incredibly delicious, these cookies will go perfectly for all those mid-day hunger pangs and cravings.
Moreover, you don't also need to worry about those extra calories while bringing these Keto chocolate cookies to the menu.
Watch Keto Chocolate Chip Cookies Recipe Video
These chocolate chip cookies may look like any other ordinary cookie. Still, almond flour and other keto-friendly ingredients make it perfect for your weight loss goals.
These cookies are also free from sugars or artificial sweeteners that can dent your health and well-being.
Still, before you proceed with sourcing the ingredients and steps for preparation, stay mindful of the following aspects.
All ingredients must be Keto friendly.
Whether you want to prepare these chocolate chip cookies according to your style and preference, you are only permitted to include Keto-friendly ingredients.
Including any other non-Keto-friendly ingredient may add more to the taste and texture but will still not solve the purpose of keeping this recipe keto-friendly.
You are free to change or replace the ingredients list but keep an eye on their nutritional aspect and calories.
Keep an eye on the serving size.
Even though these chocolate chip cookies will not harm your weight loss goals, you must watch their serving size and portion.
Plan your daily calorie intake according to weight, age, and health condition. You can consult a dietician or your doctor in the same regard.
Once you go to the Grocery shot to source the required ingredients, stay mindful of products with hidden chemicals and preservatives.
All such food options further bring those unwanted calories to your gut.
Salted butter (½ cup )
2 large eggs
Almond flour (6 oz)
Baking powder (½ tbsp)
Unsweetened chocolate chips (¾ cups)
Vanilla extract (1 tsp)
Xanthan gum (1/2 tsp)
Salt (¼ tbsp)
Erythritol (¾ cup)
Per Serving
Calories: 650
Net Carb: 7g
Total Fat: 59g
Protein: 16g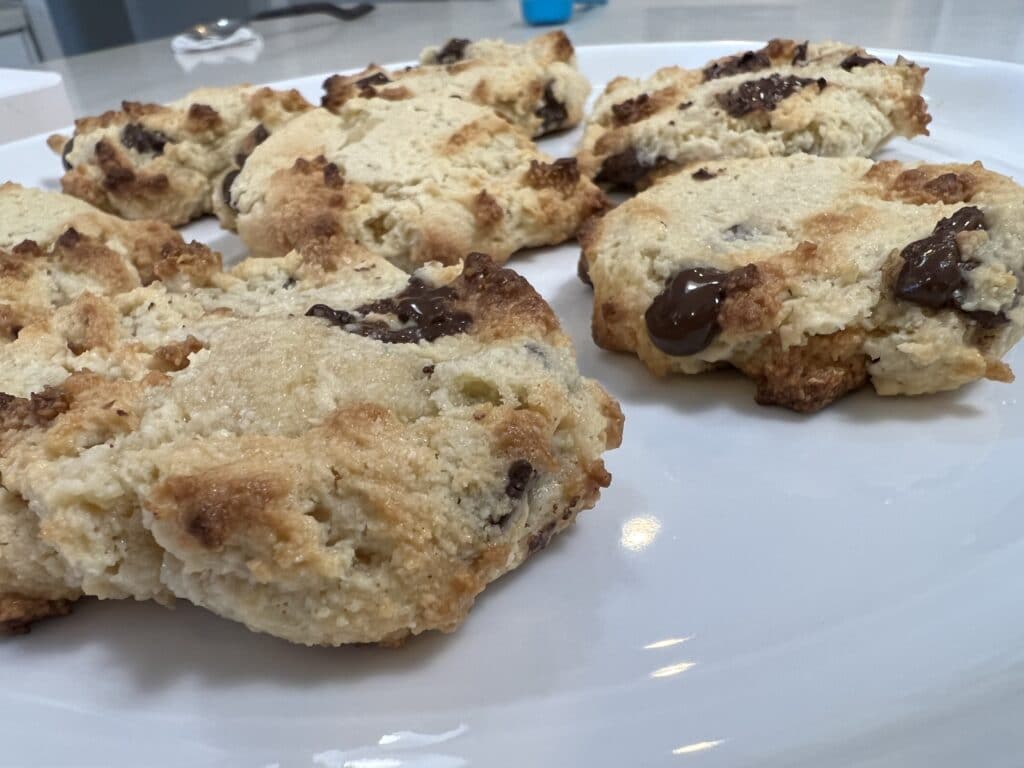 Step 1.
Preheat the Oven to 180 degrees C. Simultaneously, pour the butter into the saucepan and let it melt completely over medium heat.
Step 2.
Pour the melted butter into a mixing bowl and beat it thoroughly with erythritol. Once you get the required consistency, add Vanilla and Egg to the mix. Now again, beat the whole mix for around 20 seconds.
Step 3.
Add baking powder, xanthan gum, salt, and almond flour to the same mix and beat until you get the desired texture and consistency. Gently knead the dough mix and then remove it from the mixing bowl.
Step 4.
Properly knead the chocolate chips in a separate bowl and mix them with the dough. Once done, shape and divide the dough into small cookie forms with an ice cream scoop. Afterward, place the unbaked cookies on a lined baking tray.
Step 5.
Bake the cookies for around 12-14 minutes at the given temperature. You may find them undercooked after taking them from the oven. Still, the mix will harden after getting to room temperature.
Step 6.
Let the cookies cool down for around 10-15 minutes before serving. Moreover, you can store them in air-tight containers for later consumption. Cookies need to flatten down after their placement in the oven for 7-8 minutes.
In case you don't find that happening, press the cookies with the back of the fork and let them bake for another 7-8 minutes.
You can use Coconut flour instead of almond flour if the latter is unavailable. Also, opt for sugar-free chocolate chips to comply with your keto diet guidelines.
The recipe for these Keto chocolate chip cookies is quite easy and simple. Still, it would be best to be cautious while shopping for ingredients and condiments.
Also, change and replace the ingredients while staying on par with your weight loss goals.
See Also
Keto Diet for 60 Year Old Women