The cheesiest meal ever! It is both low carb and high protein. Follow our guide to learn the step-by-step recipe and thank us later.
Easiest Keto Philly Cheesesteak Recipe
This keto Philly cheesesteak recipe is perfect for those days when you want to eat something good but don't have much time to waste in the kitchen.
In addition to being very filling, nutritious, and delicious, even those who do not follow the keto diet can be a fan of this dish.
A wonderfully cooked bell pepper beef steak among soft low-carb tortillas. The most cheesy sauce ever as a topping. And as a finishing touch, a little chopped lettuce… Mayonnaise on the base of the tortilla: So tiny that it's not harming anyone, but effective enough to ultimately improve the taste of food.
This keto Philly cheesesteak is better than take-out and it's done so fast and won't tire you for hours in the kitchen.
According to the number of people, you can increase and reduce the materials proportionally. For example, to make the dish for 3 people, use 325g of steak and reduce the other ingredients by half.
We can't wait to share this delicious recipe with you. Try it out and share your experiences with us. Now, without further ado, let's move on to the step-by-step recipe. Here is a legendary low-carb keto Philly cheesesteak recipe:
Keto Philly Cheesesteak (6 Servings)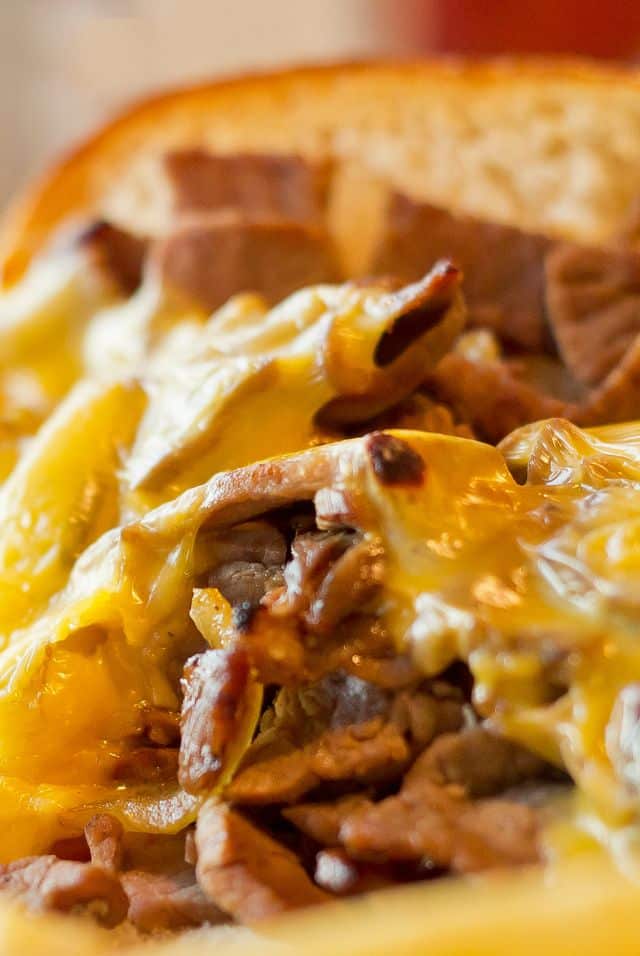 Per Serving
Calories: 510
Net Carb: 4g
Total Fat: 40g
Protein: 33g
Ingredients
Steak (650g)
Olive oil (1/4 cup)
Garlic (3 cloves)
Onion (1 medium)
Bell pepper (1/2, green)
Bell pepper (1/2, red)
Bell pepper (1/2, yellow)
White cheddar cheese (1 cup)
Salt and pepper to taste
Cheese Sauce
Butter (2 tbsp)
Heavy cream (1/2 fl oz)
White cheddar cheese (1 cup shredded)
Almond milk (2 fl oz)
Garlic powder (1 tbsp)
Salt to taste
Other
Mini keto tortillas or thin lettuce leaves
Mayo (1 tsp per serving)
Recipe – 20min prep / 20min cooking time
Prepare the steak:
Thin the steak as much as possible.
Then chop it long and thin.
Take the chopped steaks into a mixing bowl.
Add finely chopped or, if possible, grated onions to the steaks.
Add grated garlic or garlic powder.
Chop the bell peppers long and thin and adds them to the chopped steaks.
Add salt and pepper and mix.
Cook:
Preheat a wok pan.
When the pan is sufficiently hot, add the steaks and fry them.
Recommendation: Do not add extra oil when frying the steaks, because we have already put the oil in the sauce.
Sprinkle 1 cup of shredded white cheddar cheese over the fried steaks while the steaks are still hot and cover with a lid to allow the cheeses to melt.
Tip: You can also do this whole process in the oven if you wish. It would even be easier and faster.
Keep the fried cheese steaks aside.
Prepare the cheese sauce:
Melt the butter in a saucepan.
Pour the shredded cheddar cheese over the melted butter.
Then add heavy cream, almond milk, and garlic powder.
Stir until the cheeses are completely melted.
Finally, add some salt and keep the cheese sauce aside.
Combine:
Spread 1 tsp mayo on low-carb mini tortillas.
Put the steaks on the tortillas.
Then add some chopped lettuce if you wish.
Finally, add 1 tbsp of cheese sauce and fold it.
That's all.
Using a low-carb tortilla is essential for your keto diet. You can buy 1g net carb mini tortilla. Or you can remove the tortilla completely from this game and use thin lettuce leaves instead.
For this, lay thin lettuce leaves on parchment paper. Spread 1 tsp of mayo over the lettuce. Put some of the steak mix, add the cheese sauce, and wrap the lettuce with parchment paper.
Cut the wrap in half and that's it.
See Also:
Keto Ham and Cheese Roll Ups No Bread
Chocolate Keto Birthday Cake Recipe | No Bake No Flour
Keto Recipes with Ricotta Cheese | Family Friendly