No other meal is as traditional as meatloaf! Here is why. The recipe we are sharing is quite simple and delicious and it is low in carbohydrates and free of gluten. Need I say more?
Follow our step-by-step guide to make this classic meal.
Keto Chicken Parmesan Mini Meatloaves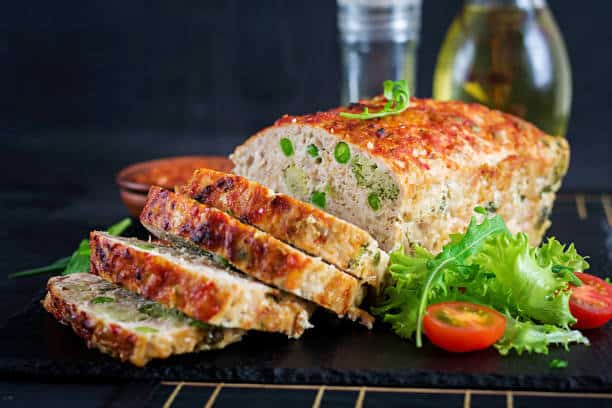 We thought about a perfect meal that is keto-friendly but can also be shared during the family night or a night with friends.
We know it's yummy comfort food, but lucky for you, great meatloaf can be keto-friendly. That means low carb, keto-friendly meal for the whole family.
You will love every single bite because, unlike some other recipes, it's not just ketchup on top of the meat.
On the contrary, this meal has savory mushrooms and cheese which add a remarkable depth of flavor.
Are you ready for another twist? This classic meal makes for great leftovers the next day…or days. All you need to do is store our keto chicken parmesan mini meatloaf in an air-tight container in the fridge for up to 3 days.
And it can be reheated in an ovenproof container using parchment paper or you can also use a baking sheet at 350 F for about 5 minutes to 7 minutes.
Finally, this meatloaf recipe requires no different cooking steps than any other meatloaf recipe and, as you can see, the ingredients aren't much different either.
This recipe can be prepared ahead of time for any busy moms trying to stay fit.
When the mix is prepared, store it in the fridge and an hour before dinner you can pop it in the oven until ready to serve.
Though the preparation is quite simple, its culinary impact is nothing short of spectacular for Sunday dinner. So get ready to be asked for seconds by everyone.
Good Luck making it!
7 Day Keto Meal Plan for Diabetics
3 Day Cleanse to Lose Belly Fat
I am Andrea! As a chef, I take pride in researching and producing diet-friendly recipe videos on daily basis. My goal is to deliver you the healthier versions of meals, desserts, and smoothies so that you can enjoy the taste of your favorite dishes and be healthy.