Do you like to eat brownies by yourself? With fruit? With walnuts? Honestly, the options are endless for how to enjoy these 7 Ingredient Keto Brownies.
In this guide, we show you the how-to so you can make and enjoy these brownies yourself.
Here is the Best Keto Brownies Recipe
These keto brownies have a lot going for them. For one, you can have a delicious chocolate treat without the carbohydrates or the guilt that comes with it.
The number of ingredients needed to make this mouthwatering treat will blow your mind.
They are free of gluten and refined sugar which makes them great if you are following any diet, not just keto.
The use of raw cocoa and processed flours also give your diet a break. Frankly, there is little not to love about this simple recipe.
Have them straight out of the oven or as a mid-day wake-up or as a midnight snack. Either way, you will love them so much, it will be hard to believe they are healthy. Need I say more?
What I love the most about this recipe is the simplicity that it takes to prepare it. It also introduces us to new ingredients, such as sugar and flour substitutes which serve as a step to a healthier you.
Every other ingredient everyone has in their home. They are so soft and rich in taste, and with only 1 net carb per piece, you cannot go wrong.
I am telling you, these are my go-to recipe for at-home snacking and the perfect treat to take on a family gathering.
And the best thing is no one will realize they have a healthier version of brownies when they are eating them. It's comfort eating at another level.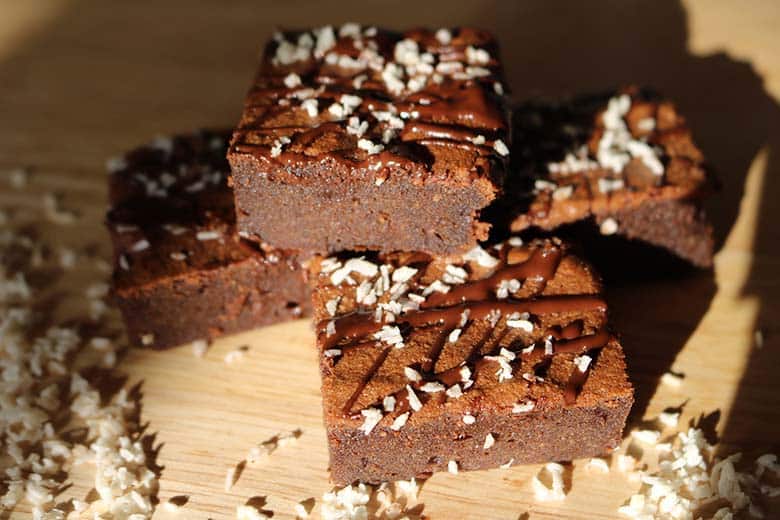 Finally, these brownies are truly a decadent treat that proves you don't need to break your diet to satisfy your sweet tooth.
They are a great recipe for a beginner as well as an experienced baker with their health in mind.
It's also good to keep in mind you can make these in bulk, which I sometimes do and freeze them for up to 6 months.
Once ready to enjoy them again, pop one in the microwave and I promise it will taste as if they just came out of the oven.
If you choose to make this recipe, share your experience with us. We will love to hear from you!
See Also
I am Andrea! As a chef, I take pride in researching and producing diet-friendly recipe videos on daily basis. My goal is to deliver you the healthier versions of meals, desserts, and smoothies so that you can enjoy the taste of your favorite dishes and be healthy.