Low Carb Meals for Picky Eaters
It's tough to be a picky eater, and it can be even more challenging if you want to follow a low-carb diet plan. But no need to panic; there are numerous low-carb dishes, so you can relish many of your comfort foods if you're on a low-carb diet plan.
Some of the meals you can enjoy include low-carb turkey and peppers, low-carb pizza cups, low-carb shrimp scampi, among others. That said, let's look at how you can low-carb if you're a picky eater and some of the low-carb meals you can have.
How Do You Low Carb if You're a Picky Eater?
Cut Off High Carb Foods with Immediate Effect
If you're a picky eater who wants to reduce their carbohydrate intake, you can be tempted to overindulge high-carb foods before you drop them, but this has a couple of side effects.
For instance, you can go through carbohydrate withdrawal symptoms making your first days of carb reduction that much harder than it should be.
Remember Your Motivation to Low-Carb
This is perhaps the most vital point of low-carbing because if you're a picky eater and you want to eat low-carb foods, there is an important reason you're doing it.
When you encounter challenges, which you will, remind yourself the motivation behind this journey to get over these challenges. Of course, it's no fun to make significant changes to your diet, and it's uncomfortable, but if you have an objective, it's crucial.
Stay Off Sugar Completely
This is important, albeit challenging, if you're a picky eater who loves sugar stuff. Two weeks without putting sugar in drinks does a lot to shift your tastes.
You will be able to taste the natural sugars in foods such as fruits and help you stay off processed sugar in the future.
What Can You Eat?
Low-Carb Butter Chicken and Rice
If you're a picky eater who's into Indian foods, you can enjoy butter chicken with rice without adding carbs. Traditionally most Indian meals are served with rice or naan bread, but as you can imagine, both are high in carbohydrates, so you can't eat them.
What's the solution? The solution is cauliflower rice which keeps this butter chicken dish low-carb without messing with the taste profile.
If you don't know, cauliflower rice is grated cauliflower which is steamed, and the result has a consistency similar to that of rice. So you can go ahead and enjoy this rice variant with butter chicken and not bulk up on carbohydrates.
Low Carb Pizza Cups
If you're a picky eater, you most likely love bite-sized snacks, so you'll love low-carb pepperoni pizza cups. This fantastic dish is made using cupcake trays for extra convenience.
It's also an easy dish to make that only requires no more than five ingredients and about 15 minutes from start to finish. If you have family or friends, they can join in the fun of preparation because everyone can enjoy these pizza cups.
Each cup comprises only about 0.3g of carbs, meaning you can have over ten of them without feeling guilty. What's more, you can prepare many of them, store them in your refrigerator, and only take them out when you feel hungry.
Low-Carb Pizza
If you're one to have pizza every Friday night, or you have a pizza craving, and you're on a low-carb diet, you can have low-carb pizza.
You might be wondering how this is possible, considering pizza crust is made from wheat which is high in carbs. However, you can make the crust from cheese and egg, albeit it will be thin.
Fortunately, you won't be missing anything with this low-carb pizza because there are many low-carb toppings you can use.
Low-Carb Shrimp Scampi
Shrimp scampi is another excellent pasta dish that has been made low-carb. The noodles or pasta are swapped with zucchini spiralized noodles.
Zucchini keeps this dish low-carb without foregoing taste or texture. However, ensure you squeeze the water out of the shredded zucchini before salting it.
If you skip this step, your noodles will become soggy, affecting the taste and texture profile. Once you're done making the noodles top them with shrimp. The good thing is you can make both your noodles and shrimp in under half an hour.
Low Carb Turkey and Bell Peppers
This low-carb dish will have you drooling at the sight of it once you're done cooking. Not only is it a low-carb meal, but it's also gluten-free and paleo-friendly, meaning just about anyone can have it, including picky eaters.
You need just one skillet to make this dish, which will take less than 30 minutes. So you can prepare this for weekday lunches or busy nights. The trick is not to overcook your chicken by covering the skillet with a lid to trap the moisture.
Mediterranean Baked Cabbage Steaks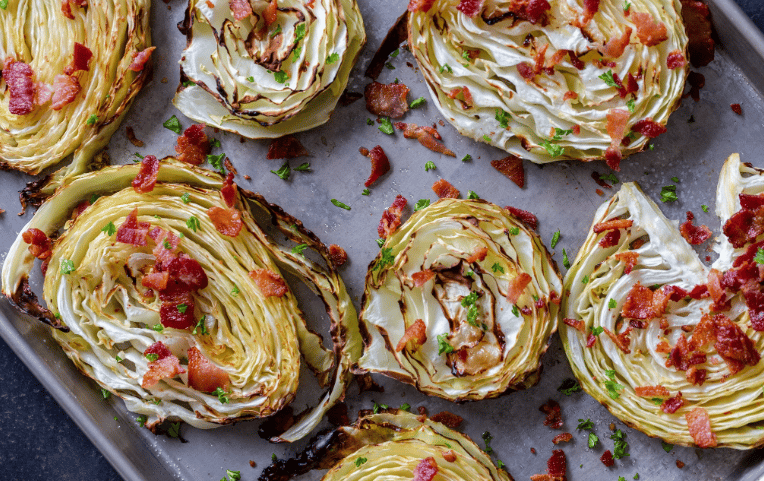 Low Carb Meals for Picky Eaters – Mediterranean Roasted Cabbage SteaksMediterranean baked cabbages not only have few carbs but they are also low in calories, making that a double-win for a picky eater.
This is one of the perfect low-carb meatless dishes for a vegetarian person or people looking for something distinctive.
This dish features the name 'Mediterranean' because it's seasoned with Mediterranean spices. It's also topped with cheese (feta and parmesan) and chopped tomatoes. It's a relatively easy meal to prepare from start to finish, so you can make it even when you're busy.
Steak with Creamy Mushroom Gravy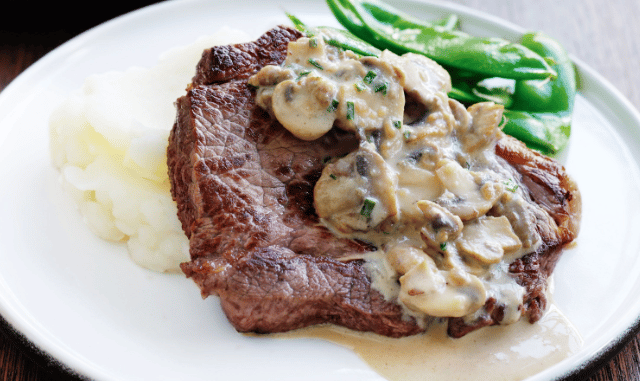 Low Carb Meals for Picky Eaters – Steak with Creamy Mushroom GravyA low-fat chunk of steak is a great dish if you're a picky eater following a low-carb diet plan. It's also a crowd-pleaser, especially if you cook for yourself, friends, and family.
This steak is baked on a skillet in an oven and served with creamy mushroom gravy. You need under 20 minutes to prepare the dish from start to finish, so the prepping isn't hectic.
If you like, you can add cauliflower to lower the carb count further.
Final Thought
To sum it all up, if you're a picky eater who wants low-carb meals, you have plenty to choose from. Most of these meals are traditionally rich in carbs, but they have undergone changes to eliminate carbs so that you don't add weight when you eat them.