Low Carb Keto Parmesan Chips
If you are a cheese lover then this next recipe is for you! Perfect as a snack or as a companion to any of your favorite dips, dishes and sandwiches.
It's safe to say it's taken longer to write the blog than make this whole yummy cheesy treat. Follow our step-by-step guide to these quick Parmesan Chips.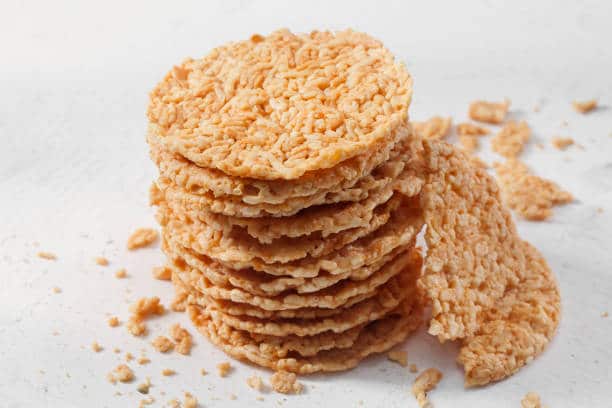 These baked Parmesan chips might be the least expensive snack and, at the same time perfect party appetizer idea.
Whether you need a healthy alternative to chips to watch the game on Sunday with the family to a snack, you can share in the office with your colleagues without the guilt.
There is no downside to making this delicious. And did we mention how easy it is?
Yes, that means you can whip this up in less than 30 minutes, which makes it ideal when you need a quick yummy snack for the kids or you are running out on errands and need a quick snack to munch on.
But don't take our word for it. Try it for yourself.
Can a recipe get any easier than this? We think not. With only one ingredient: Cheese.
It can barely even be called a recipe, so we will just name it a vice because these will become an addiction in your daily routine.
In this specific chips recipe, we use Parmesan cheese.
But the variations are frankly endless, just follow the same recipe with any other of your favorite cured cheeses and the result will be as good as the original. If not better, depending on your taste.
You can also get as creative as you want by trying different variations and even toppings. Success is guaranteed.
We know what you are thinking; such a good foundation for any recipe you can imagine. These low-carb parmesan chips can also be served as mini pizzas.
All you need to do is add some Italian seasoning before cooking the chips and add scatter small pepperoni slices in each circle and there you have another quick snack that you can enjoy while staying healthy.
For any leftovers, you may store the chips in an airtight container in the fridge for about 4 days.
You do not have to heat this and can consume them as is with your favorite keto-friendly dips or any other favorite toppings. And now to surprise those you love the most.
Don't forget to tag us with your photos when you make these quick parmesan chips recipes!
References:
Master Cleanse Lemonade Recipe
I am Andrea! As a chef, I take pride in researching and producing diet-friendly recipe videos on daily basis. My goal is to deliver you the healthier versions of meals, desserts, and smoothies so that you can enjoy the taste of your favorite dishes and be healthy.