Best Apps for Meal Planning – Overview
One of the best ways for working people to have better meals at home is to plan ahead.
Cooking delicious and healthy meals at home is especially important nowadays because shopping for groceries and eating out has become more challenging.
For most people, getting started is the hardest part. So if you lack the drive and organization to start cooking healthy meals, maybe you need to install a meal planning app on your phone.
Meal planning apps have become trendy, and for a good reason. They enable users to select specific recipes and meal plans.
They also help users track their nutritional information and create shopping lists all from the comfort of their palms.
There is an app for almost any nutritional need; whether you fancy preparing meals in large quantities to last you a while, or you're looking to shed some weight, and you need help on what to eat, you'll find an app.
So let's look at some of the top meal planning apps out there.
Some of The Top Meal Planning Apps for IOS and Android Users Include:
1. Allrecipes Dinner Spinner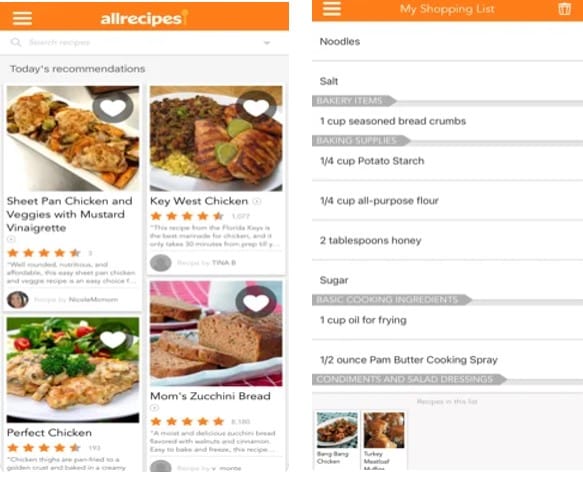 If you'd like to get some help and company in the kitchen, the Allrecipes Dinner app comprises a network of more than 25 million home cooks who can help you add variety to your diet.
This bespoke app gets better as you prepare, follow, or save dishes. Personalize your selections by searching ingredients or keywords to focus on nutritional needs and time limits.
You can also economize by preparing what's on sale in shops near you. The app will even suggest recipes when you visit specific stores.
Add ingredients or full recipes to your list, which you can prepare with the help of thousands of step-by-step cooking videos.
2. BigOven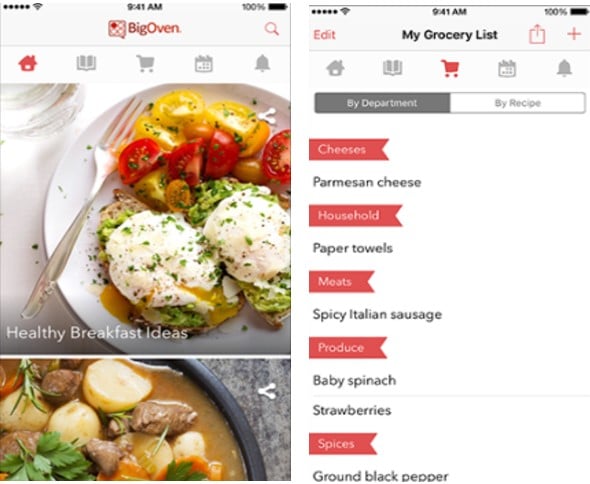 BigOven makes it simple to collect all your favorite recipes in one point, and it offers a couple of ways to integrate them into the app.
This app motivates you to eat meals and helps you with grocery shopping, meal prep, and incorporating remains into new meals.
Once you upload recipes by taking photos or clipping them from your favorite websites, you can group them by category.
This will help you find any recipe with suggested dishes or tap to save the recipe and even share meal ideas with friends and family.
You can also add recipes to your organizer, make a grocery list and discover recipes with groceries you already have to lessen food waste.
BigOven is free, but you can sign up for the premium version for 2 dollars a month or 20 dollars a year.
3. Eat This Much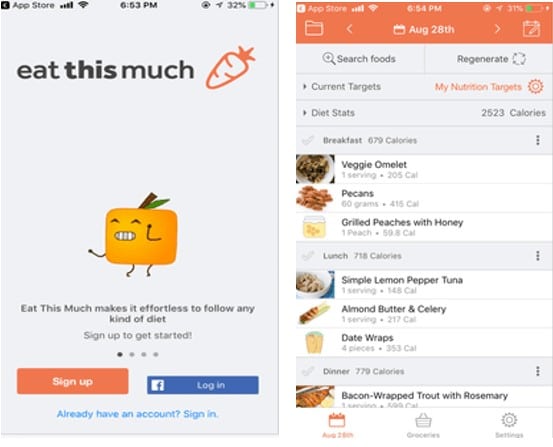 Eat This Much is a different approach to all apps on this list. This app prompts you to enter foods you like, how much money you want to spend, your roster, and the number of calories you'd like your meals to contain.
The app will then generate meal plans and provide grocery lists for the required ingredients.
If you love cooking your own meals instead of meal delivery and want to cultivate healthier eating habits, Eat This Much can help you achieve this.
Users can order groceries online via AmazonFresh. The search feature has been revamped, allowing you to browse various food categories simultaneously.
When you subscribe to the premium version, you'll receive weekly meal plans and grocery lists in your mail.
4. Mealime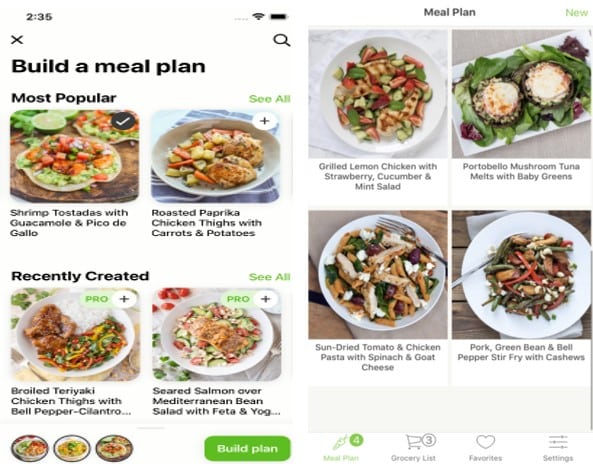 Mealime is built around planning guest or family meals the easy way. You can create a new profile for everyone you're preparing a meal for, which can include their allergies, eating habits, likes, and dislikes.
You can also build a profile for your entire family or couples.
Once you've created profiles, you can search for recipes that match all those needs. Click on any recipe in the search results, and you will get the necessary ingredients that you can add to your grocery list and step-by-step instructions on how to prepare the meals.
Recent updates to Mealime comprise new recipes, refined older recipes, custom serving sizes, enhancements to delivery integration with Instacart, overhauled recipe descriptions, etc.
5. Paprika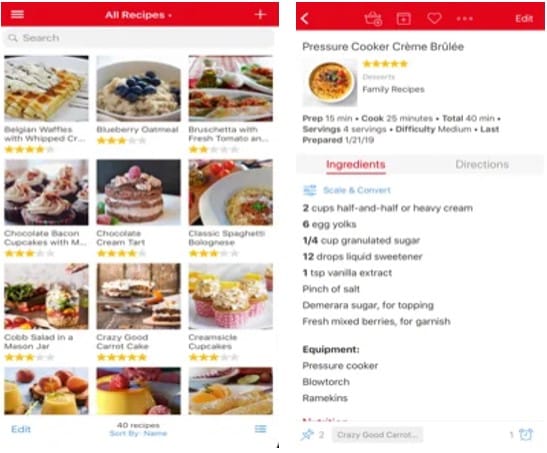 Paprika makes the meal prepping process interactive. The recipe manager provides features such as recipe search, forming lists, and planning meals for a certain amount of time.
You also get tools to make the meal prepping process more thorough. You can automatically customize ingredients and check them off as you add them to your dish.
If you're cooking for a lot of people, Paprika will adjust the ingredient rations accordingly. Paprika also makes your trips to the grocery store more fulfilling by providing a list organized by aisles in the grocery store.
Updates to the app now allow you to enter a recipe description in case you can't remember the recipe's name
6. PlateJoy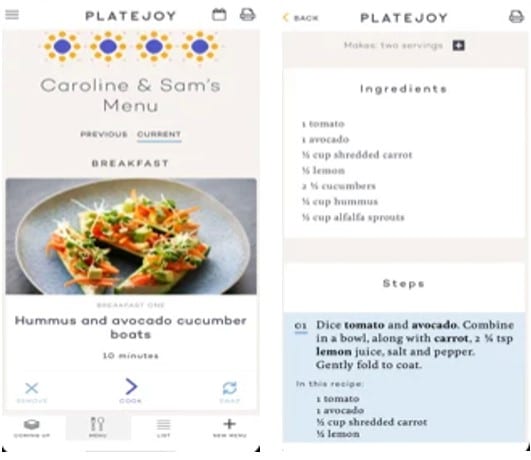 If you want to cut weight, then PlateJoy is one of the top apps out there. Designed and maintained by nutritionists, PlateJoy offers users a subscription that's a bit pricier than other apps on this list. Still, you could use this app for free, depending on your insurance provider.
Subscriptions for PlateJoy are 69 dollars for half a year and 99 dollars for one year. Simply download the app either on iOS or Android, fill out a lifestyle survey, and the app's nutritionists will create a bespoke meal plan for you.
With the auto-generated shopping list, you can liaise with various online grocery services and get them delivered straight to your doorstep.
You can also reach out to a PlateJoy nutritionist via the live chat feature on the app or call them on your phone.
Meal plans are ready for various lifestyles, including gluten-free, paleo, keto, vegan and vegetarian. PlateJoy also offers users a free trial period.
7. Yummly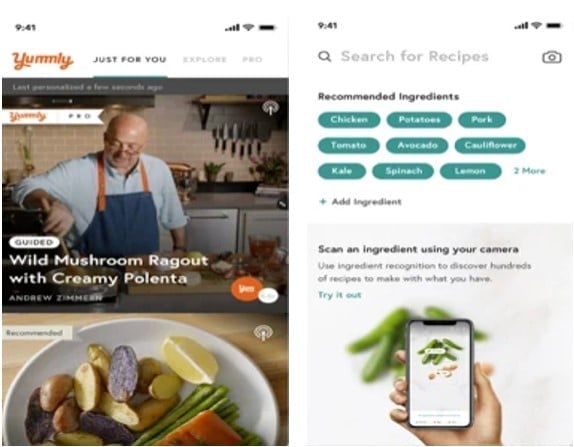 Yummly is a handy app for finding and sharing recipes; you can discover recipes using client ratings and crisp photos. The app also provides you with recipe recommendations and how-to videos.
It's an excellent app with regard to making viable enhancements to meal prepping.
Yummly makes it easy to take advantage of the ingredients you already have in your kitchen. The app's premium version costs 5 dollars a month and gives you access to a catalog of recipes with renowned chefs.
The latest version of the app comprises 'Ingredient Recognition' which precisely identifies the ingredients you have and the ingredients you need to buy.
Final Thought
Eating healthy by preparing meals on your own can be quite tricky. However, this journey can be made easier with tech input.
There are numerous meal planning apps, some we've illustrated above. Among all these apps our pick of the lot is Paprika. This is because not only can you get meal plans, but you can also search for recipes with descriptions even if you can't recall the names.
See Also
Best Intermittent Fasting Apps
Damla Sengul, a seasoned Food Editor at Dietsmealplan.com, boasts a 5-year worth of expertise as a digital editor, with a specific focus on authentic recipe content. Her expertise extends to various crucial aspects of the cookery world, including in-depth research on renowned chefs worldwide and innovative recipe development. Additionally, Damla is an enthusiastic baker who dedicates part of her time crafting delightful celebration cakes for her friends.