Get ready for a vegan strawberry smoothie recipe without any vegan milk and sugar. Get the necessary ingredients, prepare your blender and take a step towards this incredible taste.
How To Prepare Milk-Free Vegan Strawberry Smoothie?
You want to consume a vegan smoothie because they are delicious, filling and look good, but in fact, smoothies are more than that. You ask why?
For example, a meal that saves you from washing dishes. And, maybe you add the foods you don't like much in the blender with your loved ones and consume them by losing their taste.
And more importantly, they have a hero feature that easily comes to your rescue in the morning when you're in a hurry.
This is exactly why we are aware that a smoothie is much more than just a glass of smoothie.
We are now adding a new one to the vegan smoothie series prepared by Diets Meal Plan for you: a Sugar-free and dairy-free strawberry vegan smoothie recipe.
As always, let's take a look at the list of ingredients first so that we don't miss anything before creating this heavenly taste.
Shopping List for Vegan Strawberry Smoothie
Mint,
Vegan dark chocolate,
Dates,
Strawberries,
Banana,
Cashews
These are all the ingredients you need. Let's meet again in the recipe steps below once you have them all.
Vegan Strawberry Smoothie (2 Servings)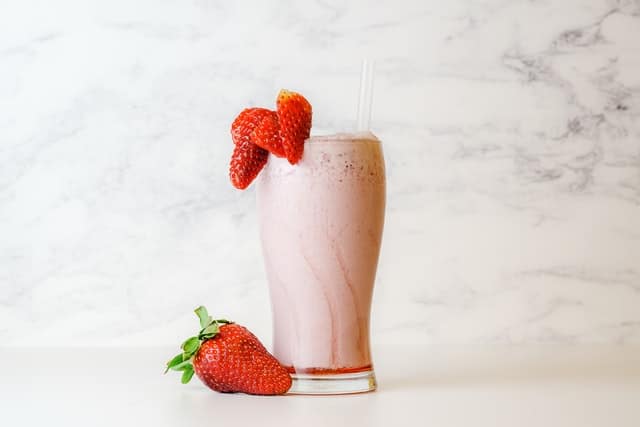 This smoothie will help protect your immune system thanks to the cashew content. While strawberry protects your heart, skin and hair improve with dates and the dates also eliminate the feeling of fatigue.
Nutritional Facts (Per Serving)
Calories: 377
Net Carb: 56g
Total Fat: 17g
Protein: 6g
Ingredients
Dark Vegan Chocolate (4 tablespoons, melted)
Strawberry (15 nos, large)
Banana (1 Large-size, frozen)
Cashews (26 nos)
Mint Leaves (10 leaves)
Dates (4 nos)
Ice Cubes (1 cup)
Recipe
Step 1.
Peel the banana, cut it in half and put it in the freezer for an hour. When the banana starts to freeze, you can proceed to the preparation.
Step 2.
Start by washing the strawberries well. Clean it, cut it in half and put it in the blender. Then add the frozen bananas. Add the dates and cashews. Finally, add the ice cubes and mix it all until it is completely smooth and fluid consistency.
Step 3.
Now we come to the show step. This step will make your smoothie look and taste irresistible. For this step, melt your vegan chocolate in a double boiler. Take 2 tablespoons of your melted chocolate and pour it around the inside of your smoothie glass.
Step 4.
Now pour the strawberry vegan smoothie you prepared into the chocolate glass. After decorating it with a few leaves of mint, place a halved strawberry next to the mint leaves. That's all. Enjoy it!
Snack for Strawberry Smoothie, Bonus Recipe:
Vegan Dried Apricot – Oat Balls (5 Servings)
We told you this delicious smoothie is sugar-free. Well, don't you need a dessert with it now? Dessert but innocent, vegan, easy to make, low calorie, raw and still sugar-free…
End your sweet craving; these vegan dried apricot balls are amazing!
Nutritional Facts (Per Serving)
Calories: 67
Net Carb: 16g
Total Fat: 0g
Protein: 1g
Ingredients
Oatmeal (0.5 cups)
Dried apricot (15 nos, half)
Date (6 nos)
Cinnamon (1 tsp)
Recipe
Start by taking the dried apricots and dates into a bowl. Add hot water to them and soak them in hot water for about 10 minutes to soften.
At the end of the soaking time, remove the apricots and dates from the hot water. Then dry well with a clean cloth or paper towel. Remove the cores of the dates.
Chop the dates and apricots. Chopping size is not important, but be careful not to chop them too coarsely.
Add the oats to the food processor first, and mix until they become thin. Then add the chopped dried fruits. Continue to mix in the processor until the oats and fruits are homogeneous.
Tip: If you think that the mixture you crushed in the processor is too dry, add some water and continue mixing until it reaches a homogeneous consistency.
Put the mixture into a deep mixing bowl. Add the cinnamon and mix with a spatula.
Bring a tray that can fit in the refrigerator. Put parchment paper on it. Take walnut-sized pieces from the oat mixture, shape them into balls and place them on the tray.
Tip: You can shape it more easily if you wet your hands while shaping the mixture.
Let it rest in the fridge for 3-4 hours and voila!
Here is a delicious vegan strawberry smoothie for you and vegan desserts you can take with it. You will love the taste harmony of the two together.
For more vegan recipes, dig into the Diets Meal Plan and have fun.
References:
https://www.webmd.com/diet/features/
See Also:
Damla Sengul, a seasoned Food Editor at Dietsmealplan.com, boasts a 5-year worth of expertise as a digital editor, with a specific focus on authentic recipe content. Her expertise extends to various crucial aspects of the cookery world, including in-depth research on renowned chefs worldwide and innovative recipe development. Additionally, Damla is an enthusiastic baker who dedicates part of her time crafting delightful celebration cakes for her friends.